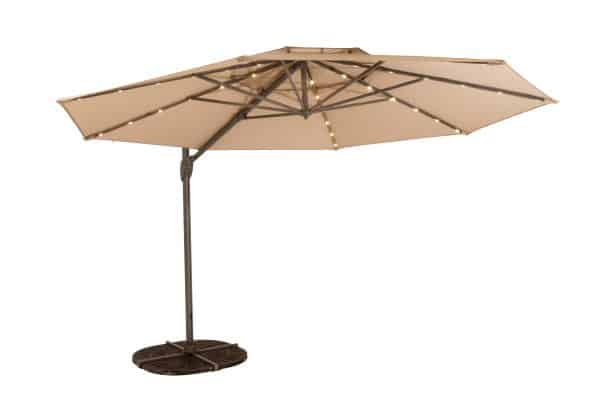 WINDEMERE LED
WINDEMERE 330CM OCTAGONAL 
 SALE % OFF RRP
OLEFIN CANOPY, GRAPHITE POWDER COATED FRAME
Windemere is part of Shelta's LED umbrella range. Great for daytime shade, and creating a soft glow in the evening. 7 LED light ribs incorporated into the Cantilever aluminium frame; dual charge – (solar and AC adapter included). Simple on/off switch on mast; approx. run time of 5 – 8 hours once charged. Aluminium mast, easy 360˚ rotation, vertical slide tilt operation with vented Olefin canopy. Polyester Protective Cover included.
INSTALLATION
On Ground Base Plate or Ballast Block Frame
(steel plate  included). Six to eight ballast blocks needed, recommended total weight 120kg.
(optional purchase). For fitting over ballast block frame, 100 x 100cm, H11cm, sand ballast 100kg.
SPECIFICATIONS
WINDEMERE
330
Shape
Dimensions (cm) (A)
330
Mast Height (

B)

260
Clearance (C)
200
Area (m2)

8
Mast
Oval 82 x 58mm
Opening
Winder system
Tilt
Variable to 60º